Kids Project. Simple Robot!
Let's make a simple robot with an obniz.
Video
How to make
Material
Motor and Gear Box x 2
Wood or Plastic for base
Mobile battery
First, Build Gear Box and motor. You can buy it at Toy Stores.
And fix it on base like wood or plastic.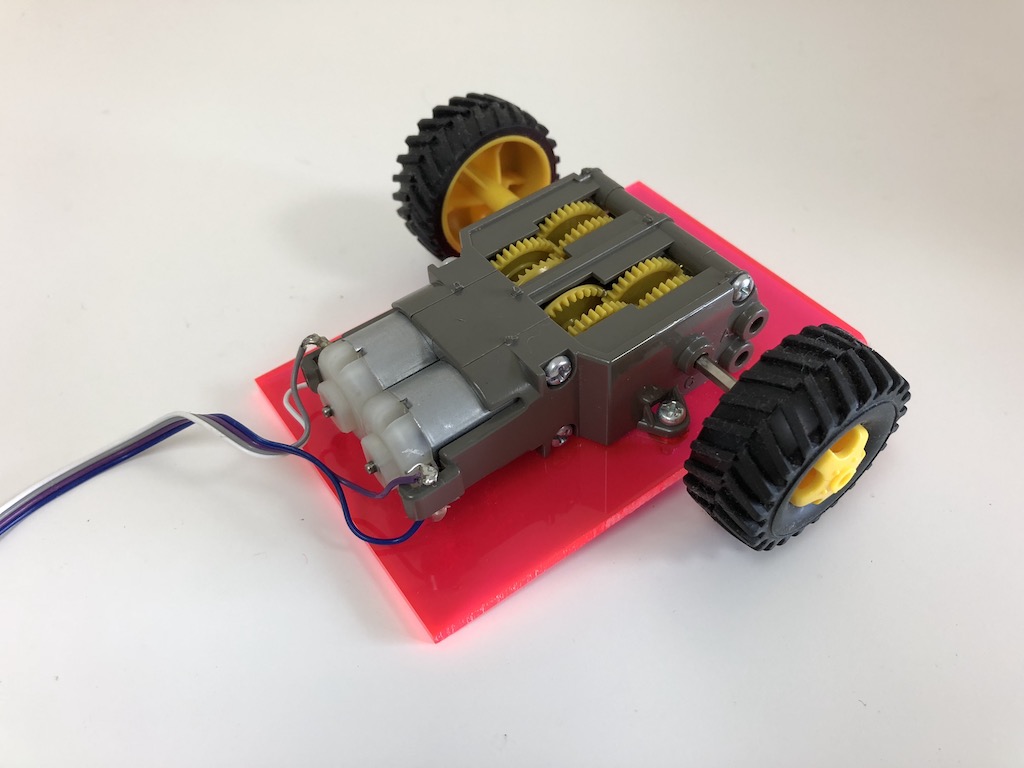 Finally, Connect these to an obniz and put an obniz and a battery on the base.
How to use
Run a program. You will see buttons.
Press and Hold a button to move forward and turn!
Program
<!-- HTML Example -->
<html>
<head>
  <meta name="viewport" content="width=device-width, initial-scale=1">
  <script src="https://obniz.io/js/jquery-3.2.1.min.js"></script>
  <link rel="stylesheet" href="https://stackpath.bootstrapcdn.com/bootstrap/4.1.1/css/bootstrap.min.css" integrity="sha384-WskhaSGFgHYWDcbwN70/dfYBj47jz9qbsMId/iRN3ewGhXQFZCSftd1LZCfmhktB" crossorigin="anonymous">
  <script src="https://unpkg.com/obniz@2.0.2/obniz.js" crossorigin="anonymous"></script>
</head>
<body>

<div id="obniz-debug"></div>
  <br>
<button id="lf" class="btn btn-warning" style="width:45%;height:100px;font-size:50px;">↑</button>
<button id="rf" class="btn btn-warning" style="width:45%;height:100px;font-size:50px;">↑</button>
  <br>
  <br>
<button id="lb" class="btn btn-primary" style="width:45%;height:100px;font-size:50px;">↓</button>
<button id="rb" class="btn btn-primary" style="width:45%;height:100px;font-size:50px;">↓</button>

<script>
var obniz = new Obniz("OBNIZ_ID_HERE");
obniz.onconnect = async function () {
  var motorA = obniz.wired("DCMotor",  {forward:3, back:2});
  motorA.power(40);
  var motorB = obniz.wired("DCMotor",  {forward:0, back:1});
  motorB.power(40);

  $("#lf").on('touchstart mousedown', ()=>{
    motorA.move(true);
  })
  $("#lf").on('touchend mouseup',()=>{
    motorA.stop();
  })
  $("#lb").on('touchstart mousedown',()=>{
    motorA.move(false);
  })
  $("#lb").on('touchend mouseup',()=>{
    motorA.stop();
  })
  
  $("#rf").on('touchstart mousedown',()=>{
    motorB.move(true);
  })
  $("#rf").on('touchend mouseup',()=>{
    motorB.stop();
  })
  $("#rb").on('touchstart mousedown',()=>{
    motorB.move(false);
  })
  $("#rb").on('touchend mouseup',()=>{
    motorB.stop();
  })
}

</script>
</body>
</html>